by k.c., (mom to Eliza Toddlers)
These pre-made breakfast sandwiches came into my life shortly before my youngest was born.  I was in full nesting mode, filling our freezer with soup and lasagna. Then I thought to myself, how can I make breakfast easier? I know many of us struggle to get out the door in time for school with a combination of babies, toddlers, and school ages kids in tow, and sometimes we are headed off to work too. Even if I manage to get food into the mouths of my little ones, I sometimes neglect to feed myself, which leaves me powerless and cranky.
Enter the Egg Sandwich!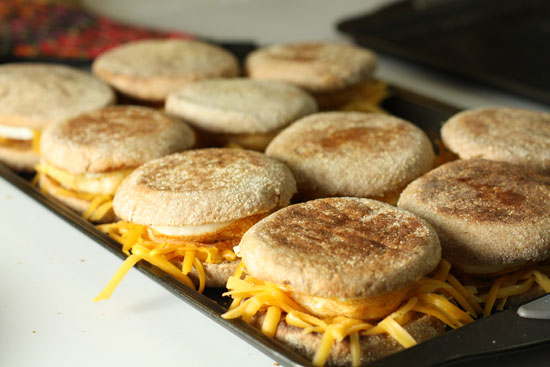 My recipe is adapted from this one that I found on Pinterest.  I make these about once a week after my 2 kids go to bed, which gives all three of us a hearty, healthy breakfast for 4 of our busy weekday mornings.
Make Ahead Egg Sandwiches
Ingredients:
12 – 14  large eggs
a splash of milk
salt and pepper to taste
Butter, oil or cooking spray
12 English Muffins or Sandwich Flats (like these, I get from PCC)
Grated Cheddar Cheese

Muffin Tin or 2 Muffin Top Pans (my preference as you get a nice wide egg patty)
Cookie Sheet Pan
Foil for wrapping

Instructions:
1. Preheat oven to 350.
2. In a medium bowl, scramble 12-14 eggs.  Wisk in a splash of milk, and salt + pepper to taste. Set aside.
3. Split open English Muffins or Sandwich Flats (which I prefer if you use the muffin top pan), place on large cookie sheet. It's ok if they overlap a little. Place in your preheating oven for about 5 minutes, or until they just start to get toasty. Remove from the oven and top half of the bread pieces with grated cheese.
4. Grease your muffin tin or muffin top pans with butter, oil or cooking spray.
5. Fill muffin tins evenly with egg mixture. I use about 1/3 cup to scoop into each tin.
6. Bake the eggs for 20-25 minutes until the centers are firm.
7. Remove from oven, cool slightly and use a small spatula or knife to place hot egg patty on your cheese covered bread.
8. Top each egg with the other piece of bread, and wrap with foil.
Once cooled, these can be left in the fridge overnight, or placed in your freezer.
To Reheat:
If they are in the fridge, I pop them in our toaster oven in the morning, and toast on high for 2-3 cycles.
If they are frozen, I put them in the toaster oven to defrost before I go to bed.  You could also defrost in your fridge. In the morning, I toast in the toaster oven 2-3 cycles on high.
My kids prefer them plain, egg and cheese, but I like to spread a little avocado and top with fresh spinach or arugula, and some fresh ground pepper after the last toasting cycle. They are also great with a little pesto spread too. But there is lots of room here for improvising.
Enjoy!