by Christy (pre-3 parent)

From now on, I will be calling Valentine's Day Love Day, because that's what Daniel Tiger says. We are mildly obsessed with that sweet tiger boy in our house, so whatever Daniel Tiger says, goes. We are also pretty obsessed with baking in our house, and Love Day is yet another chance to bake something yummy (oh…and show someone that you love them too…). I happened to come across the absolute best sugar cookie recipe a few years ago and I use it for all holidays requiring a cookie (read – all of them). These cookies are perfectly soft but also keep their cookie cutter shape in the oven. And they don't need to chill first! So here it is, for your cookie making enjoyment! And, on a serious note, spending time baking together is a wonderful way to tell your little ones that you love them.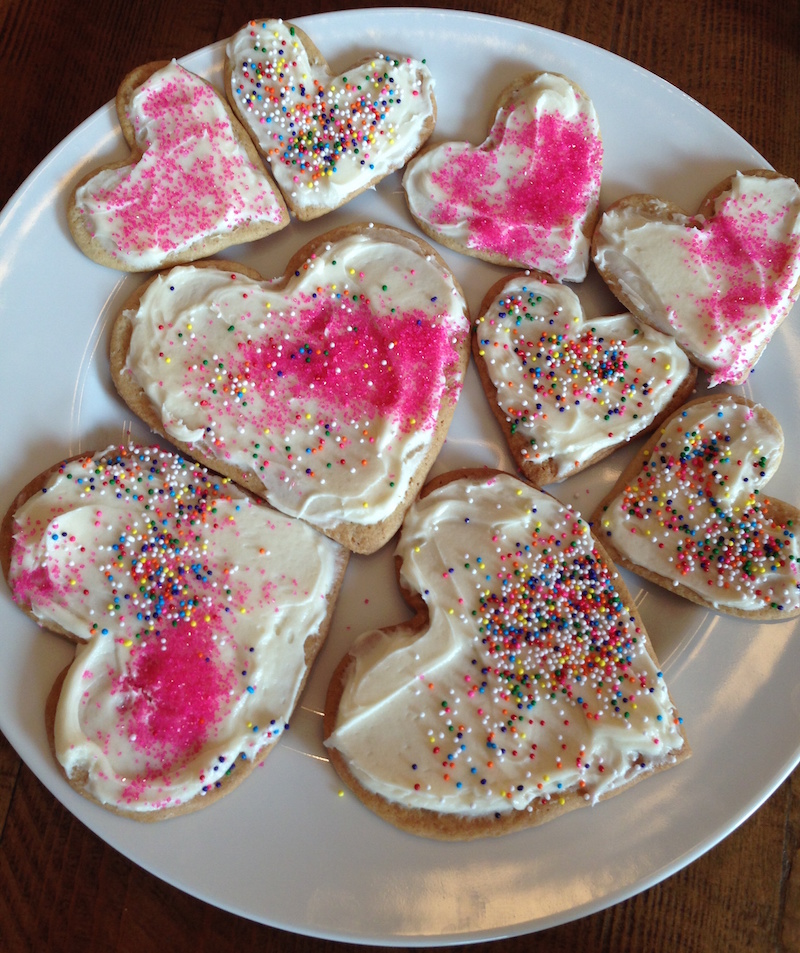 Sugar Cookies from In Katrina's Kitchen
1 Cup unsalted butter, softened
1 Cup granulated white sugar
1 teaspoon vanilla extract
1/2 teaspoon almond extract
1 egg
2 teaspoons baking powder
3 cups all purpose flour
– Preheat oven to 350° F.
– In the bowl of your mixer cream butter and sugar until smooth.
– Beat in extracts and egg.
– In a separate bowl combine baking powder with flour and add a little at a time to the wet ingredients. The dough will be very stiff. If it becomes too stiff for your mixer turn out the dough onto a countertop surface. Wet your hands and finish off kneading the dough by hand.
– DO NOT CHILL THE DOUGH. Divide into workable batches, roll out onto a floured surface and cut. You want these cookies to be on the thicker side (closer to 1/4 inch rather than 1/8).
– Bake at 350 for 6-8 minutes. Let cool on the cookie sheet until firm enough to transfer to a cooling rack.
– Frost cookies with your favorite store bought or homemade frosting and decorate with sprinkles!