by Rachel Nelson-Knecht (mom of Harmony)
Art with kids can be an inspiring and safe space for both the big artists and small artists! The intimidating aspects of art with children usually include the mess, management of materials, and one's own feelings of insecurity as an artist. But remember, you can learn and play along with your kids and beauty will happen! Here are a few tips from my years as an art teacher. I hope these tips help make creating art with your children more fun and less stressful!
MESS MANAGEMENT
Keeping the mess manageable keeps everyone happier.
Tablecloth: Buy a wipe clean tablecloth that can be folded away when you're not using it. Vinyl works great or even a plastic one from the dollar store.  
Rags: Use an old towel and cut it into smaller rags, perfect for absorbing up paint, glue, and everything else!
Paint Tray: Use a paper plate or plastic tray or even a shallow cardboard box to hold your water cup and or paints. 
Smock: Old t-shirts are the perfect smocks as are full sleeve bibs. 
Paper bag placemat: Cut a paper bag along the seam and now you have two placemats! Perfect for any project! Lay your paper on top and have fun with any materials! When you're done — just recycle!
Bring the mess outside! Art on a wipe clean tablecloth in the grass or on the deck in dry weather is my favorite! 
FREEDOM IN STRUCTURE
Giving children boundaries with a project often can lead to more creativity and fun. This can mean trying to recreate a Pinterest project or simply limiting the color pallet of paints. Sometimes kids and grownups feel unsure with no structure to create in.
Things to try to add structure. 
Cut the paper into an interesting shape prior to painting. 
Limit the color palette. Pick three or four colors to have out at a time. 
Explore a concept, like color mixing or shapes. 
Practice a skill like cutting or drawing lines. 
Use a theme like a holiday or season to inspire the project.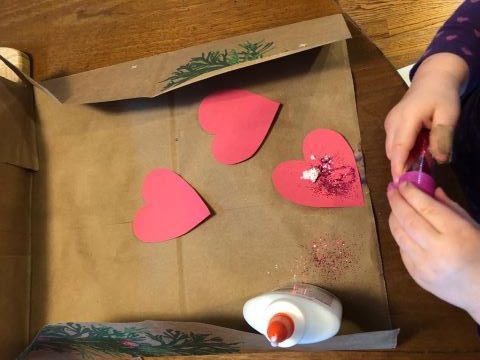 ACCESS & SUCCESS
The more time kids get to use and explore materials the more comfortable they become with them. Establishing a safe space for small artists to develop fine motor skills and the larger wonder of beauty is so important. It doesn't have to be scary and stressful. The more you both have access to this space of creativity and fun, the more confident and successful everyone will be. Consider building it into a routine. My girls are often working on a project or drawing at the table after rest time and before dinner. And remember you are an artist too!
MATERIALS: PAPER
There are materials that are worth spending on. Paper is one of them! Watercolor paper is very versatile and inexpensive when bought in bulk. You can buy 100 sheets of 9×12 watercolor paper from Artist and Craftsman for $17.00. The texture and weight of watercolor paper absorbs all paint well and adds an interesting texture to everyday coloring with crayons and markers. Printer paper is great for cutting snowflakes and doodling with pencils or crayons. Anything containing water (including water based markers) will break down and tear printer paper. https://www.artistcraftsman.com/foundation-watercolor-paper-packs-100-sheets.html
100Sheets Newbested White Watercolor Paper Cold Press Cut Bulk Pack for Beginning Artists or Students. (10 x 7 Inch) (10 x 7 INCH) https://www.amazon.com/dp/B07CQFH5NH/ref=cm_sw_r_cp_tai_TsBoEbFDARAJ3
MATERIALS: WATERCOLORS & TEMPERA PAINT CAKES
Watercolor and Tempera Paint Cakes are amazing! They are easy to clean and last forever! I have had the same watercolor cakes with my girls for going on five years and we paint often. If they get muddy from mixing, simply wipe it with a wet rag when the project is done and it's back to its original color. The rainbow or watercolor discs you can buy at any store can get trashed quickly and the color quality is often poor.
Arteza Premium Watercolor Paint Set, 25 Vibrant Color Cakes, Includes Paint Brush (Set of 25) https://www.amazon.com/dp/B077G2MT6S/ref=cm_sw_r_cp_tai_4tBoEb3HRWRY0
Sax Non-Toxic Giant Tempera Paint Cakes with Tray – 2 1/4 x 3/4 inch – Set of 9 – Assorted Colors – 402321 https://www.amazon.com/dp/B003V1DJH6/ref=cm_sw_r_cp_tai_UeBoEbW8VY74T
MATERIALS: CRAYONS
Wax crayons are truly superior to all others and last forever. You can find a variety of shapes. My girls still use block style wax crayons for some projects. Crayola original crayons are made from wax but can snap easily, so consider buying the larger grip crayons. And instead of throwing out dulled crayons buy a crayon sharpener for $5.
Crayola Jumbo Crayons, Assorted Colors, Great Toddler Crayons, 16Count https://www.amazon.com/dp/B07L6VQDSC/ref=cm_sw_r_cp_tai_zrBoEb57S1K72
Azafran Organic Crayons Organic Block Crayons, 16 Colours – 120 Grams https://www.amazon.com/dp/B07PLXP7BX/ref=cm_sw_r_cp_tai_bvBoEb1JAMCKX
MATERIALS: MARKERS
Markers are so fun but often a stress to manage. Consider buying washable markers that don't dry out. Magic Stix makes a marker that won't dry out for up to 7 days without its cap. But there's hope for those dry markers! You can wet the tip and roll it in a paper towel or plastic wrap for a few hours. Then put the cap back on. Often times there's still a lot of color left in the marker.
Magic Stix 24pk – Washable markers that won't dry out! https://www.amazon.com/dp/B076CR9T24/ref=cm_sw_r_cp_tai_bwBoEbS8Q4M1Y
MATERIALS: BRUSHES
The free brushes that often come with watercolors are not even made to hold water. These plastic bristles fray and leave kids feeling frustrated. Buy a few cheaper but soft to the touch brushes. These can be used for all types of paint and will be much easier to use.
Royal and Langnickel Crafter's Choice Flat Taklon Variety Brush Set – White https://www.amazon.com/dp/B008BSYCQ6/ref=cm_sw_r_cp_tai_ozBoEb2E7F9NG
MATERIALS: CRAFTING
I love going to the dollar store for all the odds and ends that make kid crafting fun. Popsicle sticks, pipe cleaners, pompoms, glitter, stickers, etc. It's amazing what inspiration you might find there all for a dollar. Or considering buying in bulk!
FunzBo Arts and Crafts Supplies Jar for Kids – Craft Art Supply Kit for Toddlers Age 4 5 6 7 8 9 – All in One D.I.Y. Crafting Collage Arts Set for Kids (Large) https://www.amazon.com/dp/B07TBJSZFH/ref=cm_sw_r_cp_tai_nGBoEb15F2KJE