Written by Amy, mom of Arlo
Sharing a cozy, home-cooked meal with loved ones on a blustery Fall evening might be one of the best things ever. However, as parents of young children, we all know how challenging it can be to peel a potato much less prepare an elaborate dinner in those late afternoon hours. With this in mind, I asked parents from the 3-5s class to share their favorite quick and easy recipes to make this (or any) time of year.
Our first recipe comes from Stephanie, mom of Ella, who says "This might be my favorite quick, easy dinner! It's also good with avocados or guacamole on top."
Thanks to Stephanie for sharing. Look for another deliciously simple recipe next month!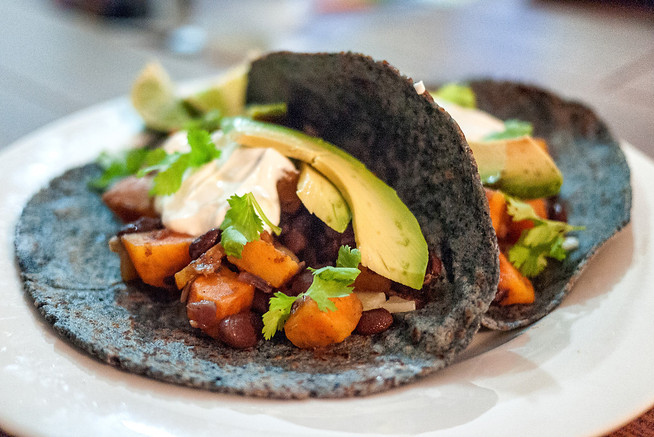 Black Bean Sweet Potato Taco / Quesadilla
Serves 2-4
1 T olive oil
1/2 onion, chopped
2 cloves garlic, chopped
1 tsp cumin
2 T water
1 cup grated sweet potato
1/2 can of black beans, rinsed/drained
salt and pepper
4 corn tortillas
1/2 cup cheddar cheese, grated
salsa
Heat oil in skillet over medium heat.   Add onion, garlic and sauté 'til soft.   Add the cumin and water and cook another minute, stirring.   Add the yam, stir. Cover and cook for about 5 minutes until the yam is tender but not mushy.   Add the beans and cook 'til hot. Season with salt and pepper.   Transfer to a bowl.
Place tortilla in skillet with oil on both sides.   Add 1/4 cup-1/2 cup of the mixture to half of the tortilla, top with some of the cheese and fold tortilla in half.   Cook each side for about 2 minutes until cheese melts and the filling is warm.   Repeat with other tortilla.   Serve with prepared salsa.
For kids: It sometimes works best to cube and bake the sweet potatoes so that kids can eat each ingredient without mixing.  The recipe also works great as tacos if you don't want the cheese.