By Christy, (mom to Lucas, Toddlers)
I love to bake, and am always looking for easy and healthy snacks for my family. Right now, I will admit that I am mini-muffin obsessed. My plan is to convince everyone of the amazing qualities of the mini muffin. Ready?  They are the perfect preschooler-size snack. You can pack in all kinds of healthy veggies, fruits and proteins. They work for breakfast too! And, they bake in no time at all because of their mini size. I think you'll become a mini-muffin lover once your kiddos try a few of these healthy and tasty recipes. Here they are, all from my favorite food blog, Foodlets.com!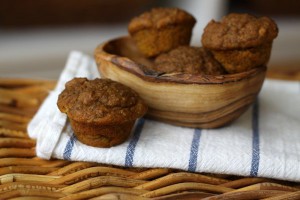 Even Healthier Pumpkin Spice Mini Muffins
These muffins are so yummy all year, not just in the fall. They are packed with fiber and protein from the pumpkin, flax, whole-wheat flour, and chia seeds. Also, you can easily omit the flax or chia if you don't have it in your pantry.
Coconut Pineapple Mini Muffins
A little taste of the tropics. These muffins are low sugar and still very flavorful with the addition of coconut milk, coconut and pineapple. They are also protein and fiber rich because of the flaxseed and whole-wheat flour.
Double Chocolate Banana Mini Muffins
A sweeter treat muffin, but no refined sugar! Sometimes you need a little chocolate, and these healthy muffins are just the thing to make if you have some ripe bananas on hand.
Easy Apple Carrot Mini Muffins
These muffins are perfect for spring, and packed with fruits and veggies. Make sure you have a food processor for quickly shredding the carrots and apples. And no need to peel anything (unless you think your kiddos will be able to detect the peel). Yum!